Business includes UK arm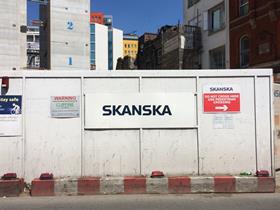 Skanska has told investors its European construction business, which includes its UK arm, lost yet more money in the first three months of 2019.
Across the group, the Swedish developer and construction giant saw revenue dip 5% and profit drop 30% compared to the first quarter of last year – down to SEK 35bn (£2.9bn) and SEK 355m (£29m) respectively.
And its European construction arm – which does not include its Nordic operations – stayed in the red following its £36m loss in 2018.
In quarter one, its revenue was SEK 6.9bn (£565m), with the business chalking up an operating loss of SEK 94m (£8m).
The group's president and chief executive, Anders Danielsson, said the firm's "main focus is to improve profitability in construction".
The firm recorded an overall operating margin of 2.1% in its Nordic construction work and 1.3% on its American construction.
Danielsson added any recovery would be "gradual" over coming years, with profitability improvement mainly expected in Poland and the US.