Crossrail bosses are struggling to find project managers to complete the delayed scheme.
A damning report from the National Audit Office has revealed that Crossrail currently has 143 unfilled vacancies at its central delivery team "including project delivery teams to work with main contractors to deliver the programme."
There are also 33 further vacancies across the orgnaisation as it battles to hit a revised opening deadline of between October 2020 and March 2021.
Crossrail scaled down its central management team as the job approached its original December 2018 opening date.
The NAO report said: "In order to be able to manage programme risks and the complex contractual arrangements effectively, Crossrail Ltd needs to rebuild its capability and capacity in a number of disciplines.
"During 2018, Crossrail Ltd reduced the number of staff in its central functions, such as risk management, planning and contract and commercial management, as it pursued its demobilisation plans in accordance with its aim to meet the December 2018 deadline.
"All of these functions are critical to completing the programme efficiently and effectively.
"The company now recognises that it still needs skills and has started to recruit.
"It has hired a head of risk and plans to increase the team from one person to five, and has reinstated its audit and assurance committee, which it disbanded in 2018.
"It has increased the size of the planning team by 15 to 34. It is also re-establishing its external affairs team.
"Crossrail Ltd has, however, struggled to recruit the skills it needs. Its capacity to manage the programme effectively remains a key risk."
The revelation is among a catalogue of management blunders highlighted in the NAO report which have resulted in the project running two years late and £2.8bn over budget.
It details how Crossrail chiefs lost control of contractors and made a series of operational mistakes in a desperate attempt to hit the doomed original deadline.
The report blames cost increases on:
Crossrail Ltd's delivery and commercial strategy
the build-up of delays, dependencies and interfaces between contracts and projects
not changing course when there were clear signs that the programme was not on track
The NAO believes major problems were evident on the project as early as 2015 and resulted in changes required to the design and to contractors' delivery schedules which increased costs on most of the 36 main contracts.
It said: "Between February 2017 and December 2018, for example, the forecast final cost of the contract to install track and key systems in the tunnels increased by 80% from £532 million to £956 million.
"Crossrail Ltd also made decisions that drove unnecessary cost.
"In early 2018, Crossrail Ltd began carrying out train testing and construction activity in alternating time periods, to allow for early sight of potential train and signalling system issues.
"However, this testing was of limited use and took any spare time and space from construction workers on site.
"Crossrail Ltd also reduced the size of its central programme and risk management teams during 2018, in anticipation of the programme reaching completion in December 2018.
"It is currently attempting to rehire these personnel. "
NAO head Amyas Morse said: "There have been a number of choices made in the course of this project that have clearly damaged public value."
The extent of cost increases on major contracts laid bare in the report: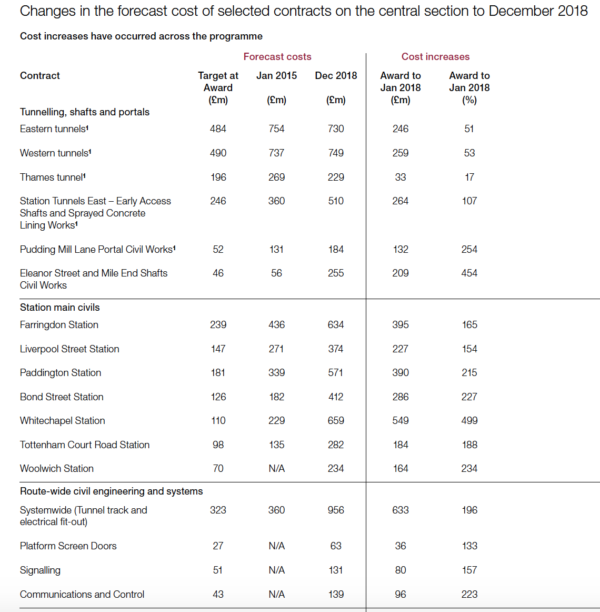 Source:
http://www.constructionenquirer.com/2019/05/03/crossrail-cant-find-enough-managers-to-complete-project/